"I see great things in baseball.  It's our game – the American game. It will take our people out-of-doors, fill them with oxygen, give them a larger physical stoicism… and be a blessing to us."

Walt Whitman
COVID-19 Guidelines
Players are not permitted to share equipment
Coaches are recommended to have hand sanitizer in the dugout for their teams
Masks/face coverings are recommended but not required
If a player is not feeling well or running a temperature, they should stay home
No post-game congregating or meeting with players on the field or in the dugouts. Teams must leave the field immediately following completion of the game.
No team can begin to enter the dugout or the field until the previous players and coaches have cleared out. Games will be staggered the best they can to assist with this.
If a player tests positive for COVID-19, the player is quarantined for 14 days and the team will be asked to get checked to prevent the spread
Compliance is expected at local fields for all policy and procedures in accordance with COVID-19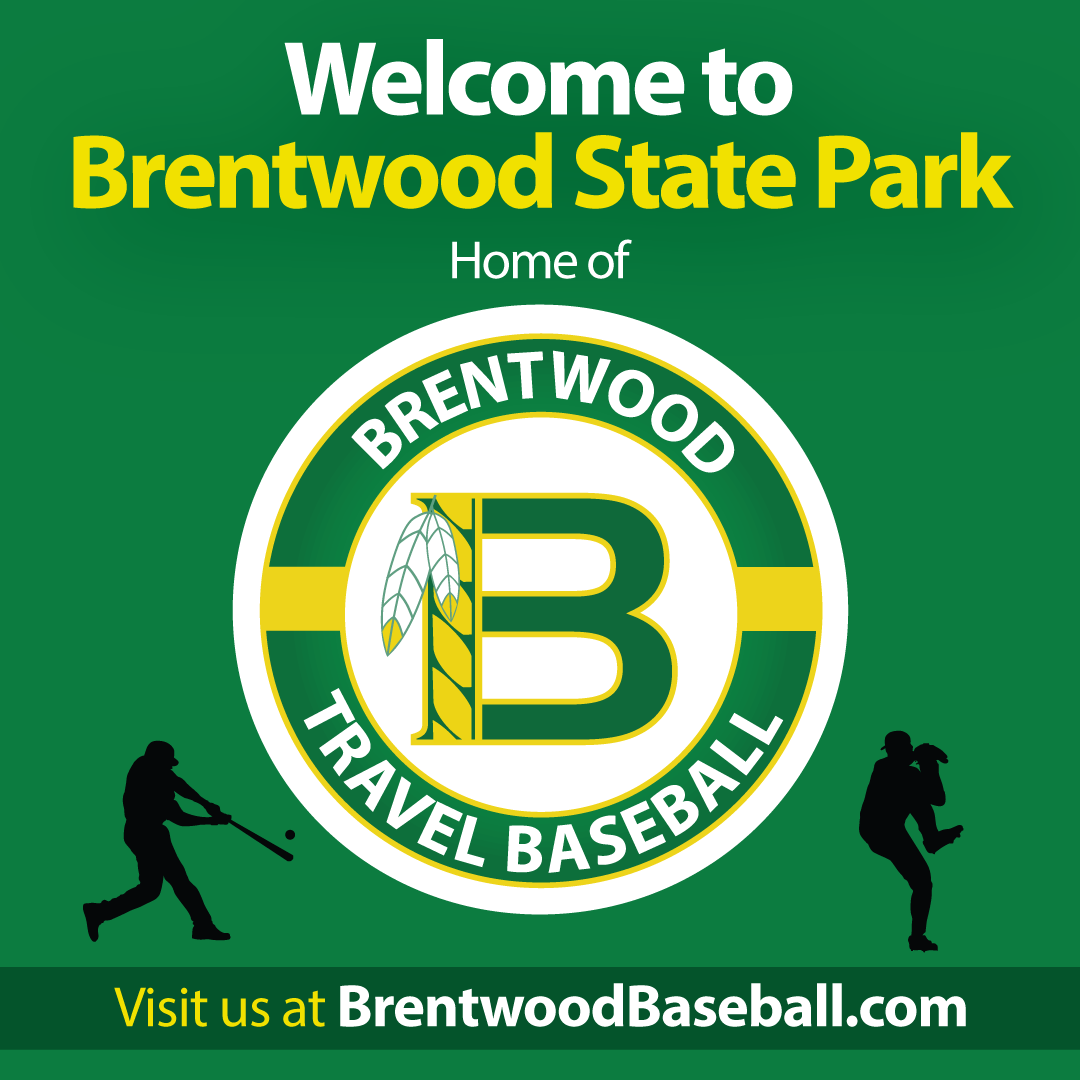 Brentwood State Park is a 52-acre, state-of-the-art sports facility featuring synthetic turf baseball and soccer fields. The park opened in 2009 following a $15 million construction program. All Brentwood Travel Baseball Inc. home games are played at this outstanding facility.
BELOW IS FORMER NEW YORK STATE PARK LONG ISLAND REGIONAL DIRECTOR WAYNE HORSELY CELEBRATING THE 2015 SEASON OPENER OF BRENTWOOD TRAVEL BASEBALL'S DEVELOPMEMTAL LEAGUE AT BEAUTIFUL BRENTWOOD STATE PARK!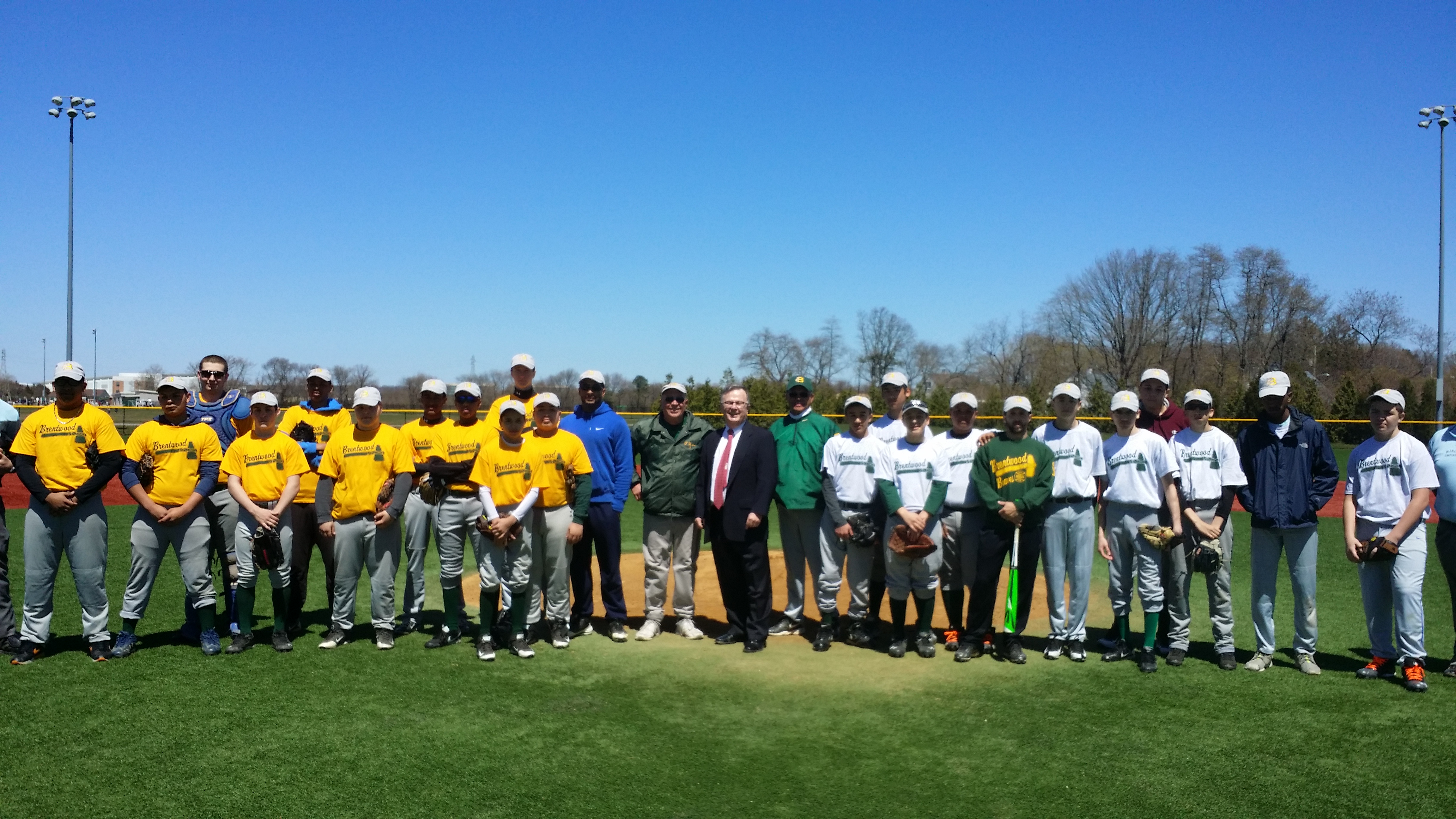 [easymedia-gallery med="477″ size="100,100″ style="light"]
Directions to Brentwood State Park
Brentwood State Park can be easily reached via the Long Island Expressway, the Sagtikos and Southern State Parkways, and Sunrise Highway. Use the map to determine the route that is best for you, or download our written directions.
Ground Rules at Brentwood State Park
Use of the field before and during the game 
Completely remove the mound and plate tarps from the field on the red cart and secure them in the garage in the announcers' tower.
Ensure that the field is game ready (raking, tamping & batters box lining etc…)
Under no circumstances shall a shovel be used to move clay
Under no circumstances shall water be pushed off either a tarp or clay area(s)
Off-field equipment available on site must be used to pump water off the field of play
Before each game ensure that no metal spikes are used by any player.
Ensure that all players are aware that there are absolutely no seeds, gum, tobacco or sugary drinks are permitted on the carpet.
Ensure that there is absolutely no clip of any kind to be attached to any fence.
Ensure that no baseballs are thrown or hit into any fence.
Ensure that all waste is placed into a garbage can.
Ensure that no baseballs will be thrown in any area east of the north/south walkway (Announcers Tower).
Ensure that there is no player/spectator (with the exception of the "on-deck batter" area) inside of the border bushes behind the backstops or on any grass east of the north/south walkway.
The Home Team (Brentwood) Coach is responsible that these ground rules are covered at every pre-game home plate meeting with the opposing Coach and the game Umpire(s) and ensure adherence to NYS Parks and Brentwood Travel Baseball ground rules at all times.  During tournament play the Tournament Director will take on such responsibilities.
Use of the field following the game
Ensure that the mound & plate areas are raked, tamped, hosed down and completely tarped.
Ensure that the fields of play and spectator areas are completely cleaned.
Ensure that all equipment and supplies are stored properly & locked in the Tower Garage.
Ensure that the entire area is safely secured and that all visitors are accounted for.
In order to have use of lights ($ 50 per hours after 8 PM, $200 per hr before) all teams must contact BTB as far in advance as possible and pay up-front $100 no later than two (2) business days prior to the game.
If lights are being used, the game scorebook MUST indicate exactly what time the BSP employee turned them off from the manual switch located in the Tower or the user will be charged for the programmed auto-turnoff time of 10:00 PM.
Welcome aboard, and let's look forward to many happy seasons of great baseball!